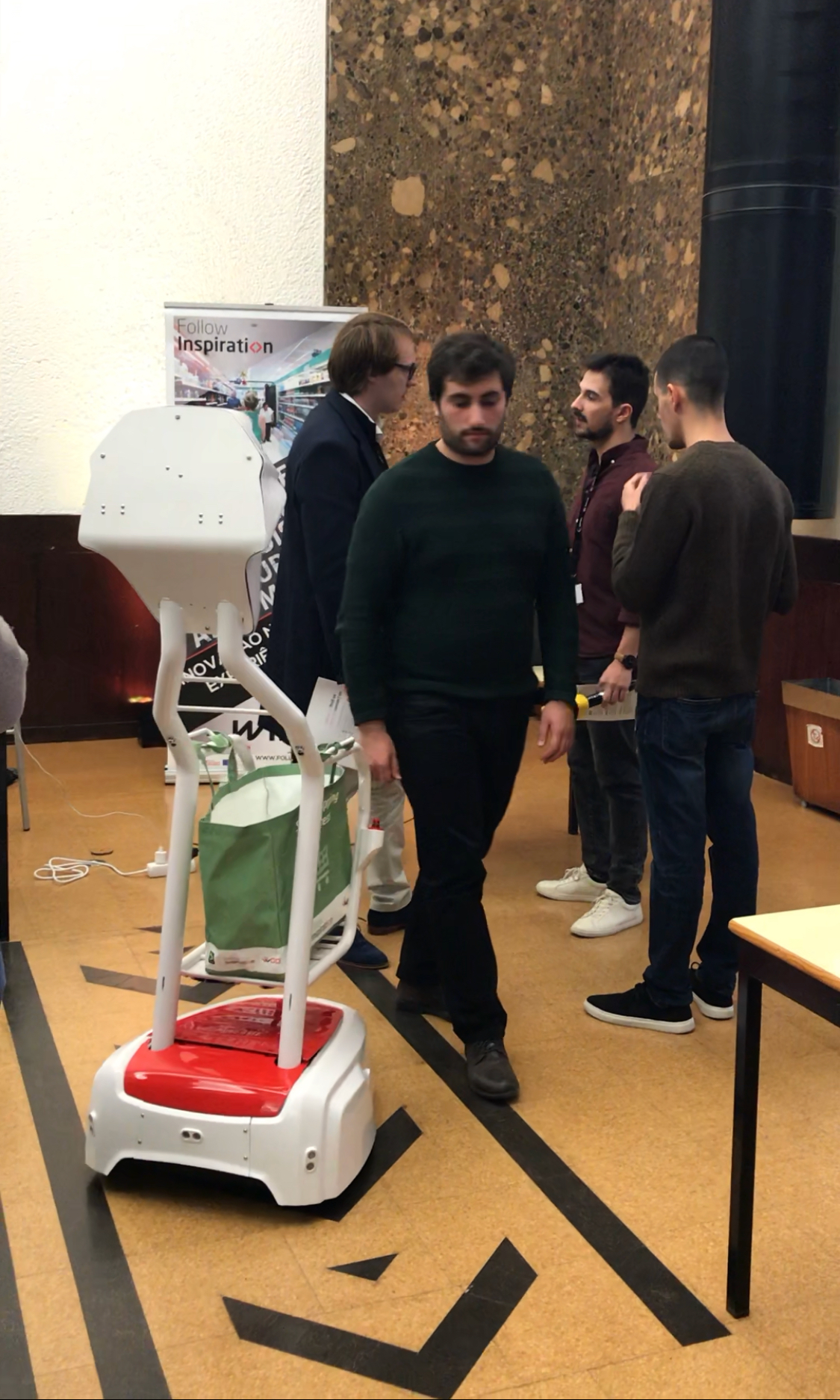 PT
There are already, at the moment, robots that could be held accountable, civilly and / or criminally. Yes for sure. Let us see why, starting with a practical example, a problem and the issues raised by it, namely:
The mother of a 16-year-old boy sends the young man to the supermarket, which is five minutes' walk away, to buy 6 liters of milk, three kilos of sugar, three of rice, a lemon and cinnamon to make sweet rice for all family. Do not forget a can of pineapple in syrup. The boy programmed the robotic basket, visible in the attached image, which the supermarket had leased with a financial company, which followed him in his purchases. The young man leading the way and the robotic basket following him closely, with no physical contact between them, during the operation. Yes, this already exists today and the young man imitated, in real life, a game that would then play in his play station. So, he does not notice, when crossing with the robotic basket also without physical contact with a man of 61 years, who was walking with the help of two walking sticks. The robotic basket of the young man, following this one, crossed abruptly in the way of the robotic basket of the senior, who is unbalanced in this crossing ways. One of the three hit a shelf and a can of syrup fruit struck fatally the back of the old man.
Who is responsible civilly and criminally for this disgrace, assuming that the supermarket is not insured by the use of such robotic baskets and knowing that if there is a death there must be criminal responsibility to be accurate.
It will be:
a) The mother or / and the father of the minor, because they are responsible for the acts of the minor that was at the origin of the accident?
b) The owner of the supermarket, because the operation of the robotic baskets is his responsibility?
c) The financial entity that owns the robotic baskets, because it gives them to the supermarket owner ?
d) The manufacturer of the robotic baskets, because he manufactured them and had them programmed?
e) The programmer of the same, since he did not predict the unexpected movements of young man?
f) One of the robotic baskets, as a robot in itself, because it shocked with the other and caused the fall of the can, necessitating so a legal personality?
This type of accident will tend to happen when cars are no longer driven by humans. It happened already in the USA with a Tesla that was not being driven by an human, at that precise moment, and could not detect another vehicle, causing death to the driver.
Also the accident described above can happen already in Portugal today, with the image robot, before those cars arrive to Portugal. Although, this week, I drove a Mercedes Benz S series and my intervention in his direction was not total, neither in the wheel nor the pedals
What can do the victim or the victim's family do if it is a fatal situation. We are not prepared legally for this development and should be the European Community to regulate on this matter and not the Community States, due to the abolition of internal borders. In particular it should be regulated in the Shengen space, including non-EU countries, because the robotic vehicle may have difficulty understanding when crossing a border, as it is a human fiction and if it is not regulated the obligation of the GPS of the vehicle to have a device to turn off automatic driving, when beyond the border, where robotic driving is authorized.
In the near future, people will predominantly live in large cities, so there are propensities for companies to explore a fleet of unmanned vehicles. These will run autonomously without passengers. We will take a smart phone, select the route and the vehicle will stop at our door and leave us at the chosen destination, and go way, finding a new transport. The owner of the vehicles will be a bank or similar, which will transfer the same to a company that will explore its circulation.
This is not science fiction, it is already there and we must prepare us for it. In a situation like the one above, which can happen already today, inside a supermarket with a robot and where the fault in the accident would not be the programmer, but a third cause, who will respond civilly and criminally? If happens today a Judge could likely blame the financial owner of the robotic basket, or the parents of the kid who was playing with him, or the producer of the basket, by programming.
It does not seem to us to be the fairest or better protect the victim, forcing years of highly complex investigation. A more immediate decision and then a right of return would require regulation.
We have no doubt by saying that as it produces wealth, the robot must, with the product of its labor, earn a remuneration not for itself, but to constitute a guarantee fund. If it generate wealth, why can not this wealth be charged in order to constitute a guarantee fund? A liability insurance and maybe to be fined criminal responsible.
But to do so, it should have legal personality. It should respond to its decisions, which it takes in the face of reality, just as a company is directly responsible to the State, because its managers do not pay VAT or evade payment of taxes.
Obviously, a company can not be sentenced to prison, but I do not think it is misplaced a court decision, ordering to deactivate a robot, as a death penalty, for being responsible for several robot decisions that caused victims.
Unless better opinion it would be good to create a moment of personality acquisition, to the digital person – name that is already used between legal and informatic person. I do not defend that it must be necessary to pass a Turing test, but much less than that. We would be faced with the legal absurd, that a newly born human would fail at such an examination.
Let us then look at what the portuguese legislation refers to as legal personality.
Pursuant to paragraph 1 of Article 66 (Beginning of Personality) of the Portuguese Civil Code (Decree-Law no. 47344/66, of November 25) "Personality is acquired at the moment of complete and lifelong birth." under the terms of no. 1 of Article 68. "Personality ceases with death". We are talking about human personality, physical, singular.
You can't apply this century-old definition to a robot. But is it because of this that you can not have personality and, therefore, be held accountable?
If there is physical or human persons, there is also legal or juridical personality, artificially created for societies, associations, foundations and provided for in Article 157 (Scope) «The provisions of this Chapter apply to associations which do not have the economic profit of the members, the foundations of social interest, and also to societies, when the analogy of the situations justifies.»
And there, instead of being born alive, we have to regulate Article 158 (Acquisition of personality) 1. Associations constituted by public deed or other legally admitted means, which contain the specifications referred to in paragraph 1 of article Shall have legal personality. 2 – The foundations referred to in the previous article acquire legal personality through recognition, which is individual and under the authority of the administrative authority.
That is to say, a non-physical personality was created, of non-human entities, devoid of emotions or feelings and aimed at an objective and fictionalized rights and duties proper to legal entities that they are. It is not necessary to have emotions or feelings to get collective personality.
It was therefore necessary to create a rule of analogy, Article 165 of the Civil Code (Civil liability of legal persons) "Legal persons are liable for the acts or omissions of their representatives, agents or agents in the same terms as the acts or omissions of their Commissioners. '
As for criminal liability, legal and similar persons also respond under Article 11 (Liability of natural and legal persons) of the Portuguese CRIMINAL CODE (published in 1982 consolidated in 1995 by Decree No. 48/95 of March), article that we transcribe for ease of understanding:
«1 – Except as provided in the following paragraph and in cases specially provided by law, only natural persons are liable to criminal liability.
2 – Legal persons and entities, with the exception of the State, of legal persons exercising the prerogatives of public power and organizations of public international law, are responsible for the crimes provided for in articles 152 A and 152 B , Articles 159 and 160, Articles 163 to 166 being the minor victim, and Articles 168, 169, 171 to 176, 217 to 222. 258, 262 to 283, 285, 299, 335, 348, 353, 363, 367, 368a and 372 to 376, where they are committed:
a) On behalf of and in the collective interest of persons occupying a leadership position therein; or
(b) by any person acting under the authority of the persons referred to in the preceding subparagraph on account of a breach of the duties of supervision or control incumbent on them.
3 – (Repealed.)
4 – It is understood that the organs and representatives of the legal person and who has authority to exercise control over its activity are in a leading position.
5. For the purposes of criminal liability, entities treated as legal entities shall be deemed to be civil societies and associations of fact.
6 – The liability of legal entities and similar entities is excluded when the agent has acted against orders or express instructions of those who are entitled.
7 – Liability of legal persons and similar entities doesn't exclude the individual responsibility of the respective agents and doesn't depend on their liability.
8 – The spin-off and the merger do not determine the extinction of the criminal responsibility of the legal person or similar entity, answering for the practice of the crime:
a) The legal person or similar entity in which the merger has taken place; and
b) The legal persons or equivalent entities that resulted from the division.
9 – Without prejudice to the right of recourse, persons holding a leading position shall be liable in the alternative for the payment of fines and compensation in respect of the offenses in which the legal person or similar entity is convicted:
a) Practiced in the period of exercise of their position, without their express opposition;
b) Previously practiced, when it was his fault that the assets of the legal person or similar entity became insufficient for the respective payment; or
c) Previously practiced, when the final decision to apply them has been notified during the period of exercise of their position and is attributable to non-payment.
10 – Since several persons are responsible under the terms of the previous number, their responsibility is joint and several.
11 – If fines or damages are applied to an entity without legal personality, the joint assets and, in their absence or insufficiency, jointly and severally liable for the assets of each of the members.»
It is only not fair that a company can have personality and a robot can't have it. Whether it has physical existence or whether it is a program running on a computer, on the internet, or in a human or non-human being, as long as it has the ability to make decisions in real life situations, we do not see why it should have a different treatment of a legal person.
As we said above would not need to undergo a Turing test, but would need a decision to recognize the existence of a digital personality, similar to a foundation, by simply checking that it has the ability itself to take decisions before real-life situations, even if they simply turn left or right. The fact that it has been programmed does not detract from its dignity because it can be judged by the choice it made, by the decision it has made and there must be a right of return to third parties.
Even because we can not give less dignity to an intelligent being, than to animals, that under the new Article 201-B (Animals) of our Civil Code regulates today that «Animals are living beings endowed with sensitivity and object of protection by virtue of their nature.» and Article 201-D (Subsidiary system) «In the absence of a special law, the provisions relating to things shall apply in a subsidiary way to animals, provided that they are not incompatible with their nature.»
We must not forget that, at this moment, some stock exchanges markets in which transactions are made between robots or by robots, without physical existence, representing individuals and corporations at a speed and with capabilities out of human possibilities. I am sure that in the last financial crises there was a share of responsibility that could be assigne to these robots, but it was not done so and it was assumed that those responsible would have been humans, so investors would lose confidence in robotics and today it's impossible, technically, to go back.
This means that robotic personality must be recognized, if not it will be bad of natural persons becoming victims as the victims and as decision makers that robots take, under which they have no control. Such recognition has to make them responsible both civilly and criminally, leaving some of them to be only legal things.